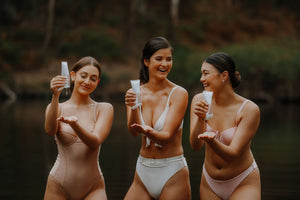 Delivered by nature, backed by science.
Revolutionary skincare from the inside to the out.
Here at Wild Fusion, we do things a little differently. While many skincare products piggyback off the fads of another, ours couldn't be more different. With a CEO certified in cosmetic science, Wild Fusion is all about the facts.
Our products are made by us, backed by our own research and findings, and are the perfect combination of artistry and chemistry. With many of our ingredients found in the rich tapestry of Australia, we're here to create great skin from the inside to the out.
real customers, real results
the simple art of skincare
how we got here
As a little girl, I was mesmerised watching my mum apply her skincare, makeup, and blow-dry her incredible locks. This is probably what led me to first study makeup artistry and beauty therapy. Even though I ended up completing studies in accounting and business, I longed to return to the world of beauty. Out came the beakers and the textbooks as I begun my journey studying cosmetic science. That certification led me to create the one-of-a-kind skincare products I offer you today. Skincare that is, truly, backed by science.
Read more of Sam's story here.

We here at Wild Fusion Skincare respectfully operate on Ballardong country and would like to take this opportunity to thank and acknowledge the original custodians of this land, elders past and present.
We pay respect to the generations of local Aboriginal people who have lived in and derived their physical and spiritual needs from the forests, rivers, lakes and streams of this majestic area over many thousands of years as the traditional owners and custodians of these lands we work, meet and collaborate.